This is a feature we are wanting to start up where we will interview our GAS Bowstrings Pros! You'll be able to meet our pro staff, learn more about them, why they got into archery, and maybe learn something you never knew about them! The way it will work is we will ask them 10 general questions about archery and their career and then 2 bonus questions pertaining to that specific pro. For our first Pro Spotlight, we thought it was fitting to start with an archer who is just starting her pro career this year!
Madison Cox has had an incredibly successful year last year as it was her first year shooting World Championship events! She was also successful in the ASA women's k-45 division last year, where she won out and had to make the decision between women's k-50 or women's pro for this year. She decided to make the jump to the pro class!
What got you started in archery? When did you start competing?
My Dad and Brother got me into archery. My brother originally started in NASP and quickly switched over to compound and picked up on it fast. He had been shooting for a year or two and I swear it was every week my dad would ask me, "If I buy you a bow would you shoot it? I think you'd be good at it." I would normally shrug it off and tell him "I don't know", until one day I got tired of answering and told him if he bought me one, I'd try it but that I didn't think I'd be good at it. Of course, I came home from school one day and he had bought me a bow, an Elite. In the beginning, I was right, I was not good at it and let's just say I probably hit more trees practicing within the first few months than I hit targets. I started shooting some S3DA events at the end of 2017 and then shot some ASA and S3DA events in 2018 and 2019. In 2019 I started collegiate archery.
Did you always shoot the style of archery you are shooting now or have you switched over the years?
I have always shot compound since I got a late start in archery compared to most, I have stayed with compound the entire time.
You are currently competing while in college! Tell us a little bit about your college and what you enjoy about collegiate archery.
I am currently a last-semester Senior at the University of the Cumberland's. I am going to graduate in December with a double major in Business Administration and Communication Arts with an emphasis on Strategic Communication. I plan to start my Masters in January and get my MBA. Collegiate archery has been the best thing in my archery career this far. It has pushed me to be the archer that I am today, and it is amazing that I get to practice with other high-level archers that push me to be better daily. I enjoy the environment of collegiate archers, whenever you go to a tournament you know all the other archers there are in the same boat as you. We all must balance shooting and homework which can sometimes be a struggle. If you would have asked freshman year Madison if she could see herself being where she is right now in her Senior Year, she would probably laugh at you and said no way.
Why did you choose GAS Bowstrings?
I chose GAS Bowstrings because I had heard nothing but good things about the products. I remember getting into archery and my S3DA Coach, Bo Morris was all for getting GAS Bowstrings. I remember going to his archery shop and being so excited to look at string colors for my first bow and ordering Flo Pink. GAS Bowstrings are definitely the best quality strings on the market, and you can't find better people than the ones that work at GAS.
Which string set do you shoot and why?
I shoot the Ghost XV Strings because, since the first time I tried them, they have worked best for me as they have been perfect performance quality for me.
What is a goal you have set for this year?
I have two goals for the year. The first is to make a shoot-off or two in the Women's Known Pro class in the ASAs or at least be close to making a shoot-off. The second is to qualify in the top 10 at Lancaster.
What shoots are you planning on attending this year? Which one is your favorite?
I plan on attending all the USATs, all the ASAs that I can, some of the World Cups (more than likely), Senior Nationals, Lancaster, Vegas, and all of the collegiate shoots. My favorite event would probably have to be Lancaster, it is such a great environment and there are so many talented archers all in one place. I also like how the 11 is in play, I would much rather shoot that scoring system compared to Vegas' scoring.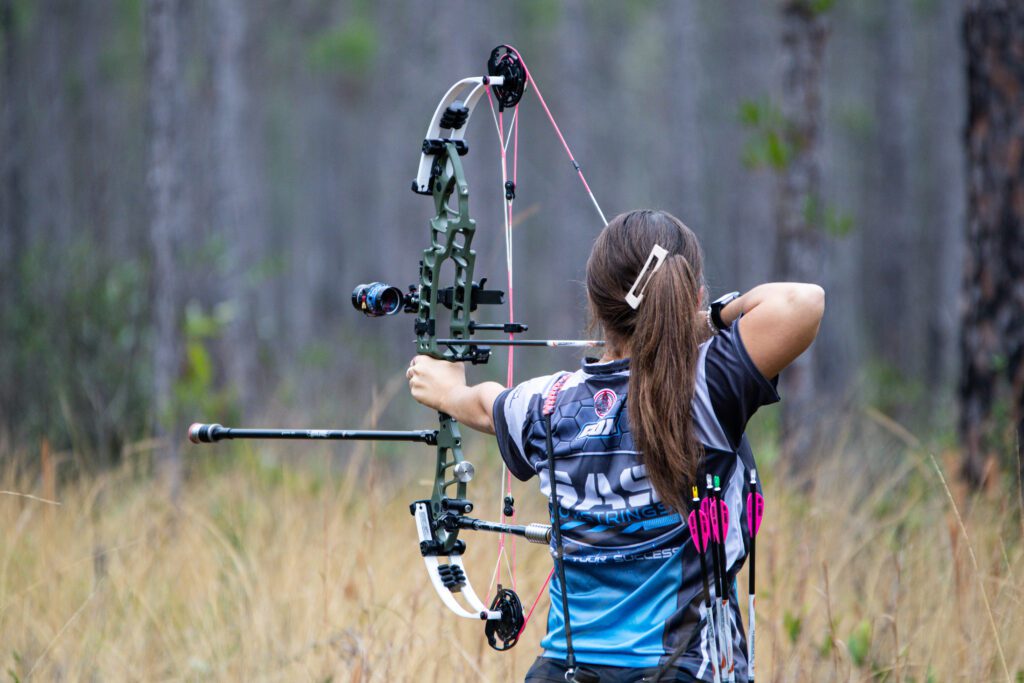 Who do you look up to?
I look up to Levi Morgan, Erin McGladdery, and Tanja Gellenthien. I have the utmost respect for these archers, and they are all so down to earth and are willing to help anyone out. I also look up to Eric Griggs as he is one that pushes me to be better and believes in me. All these archers have accomplished so many things I hope to accomplish in the future. They are all so humble and nice.
What is one piece of advice you could give about archery?
Have confidence in yourself and know that you are exactly where you should be.
What are some of your favorite hobbies outside of archery?
Outside of archery, I enjoy hanging out with my friends and family. I also enjoy spending time with my cat, Brownie lol.
Bonus Questions for Madison!
This will be your first year in the pro division, how does it feel?
With it being my rookie year, it is a bit scary. I keep reminding myself that if I want to feel comfortable in the Pro class later that it is okay to feel uncomfortable now. Growing and changing is hard for me at first, but I am super excited to get this year under my belt and get my Pro career started.
You've been representing the USA in several World Archery events all over the world! How has it been going and how did you get started in shooting these events?
Shooting in World Archery events has been a world of emotions. From making the Youth World Archery Championship Team last year to then going to the Junior Pan-American Games was an amazing experience. There is nothing quite like your first international trip, you go, and then you are addicted. Not knowing when your next international event is can be stressful just because they are so fun. The experiences I have made internationally have been great and will help me a ton in the upcoming World Cup season.
I got started in World Archery events by trying out for the Youth World Archery Championship team last year at JOAD Nationals. I literally went to this event with no expectations of making the team, I was like "if I can just make round robins with these girls, I would be happy." (I had never been to JOAD Nationals before, so I had no idea what to expect). They peer grouped us on the second day and I was on the top peer bale, that was for sure an overwhelming experience. Since I had short bars all the other girls that didn't know me looked at me like, "um what does this girl think she's doing?" Making that team has opened a ton of doors for me. Making Senior USAT this past season has also opened a ton of doors and I'm excited to see where it takes me! My next World Archery event is the Senior Pan American Games in Santiago, Chile next week!
Thank you Madison for being the first archer to do our Pro Spotlight! We welcome you onto our pro staff this year, we wish you all the best in Chile, and can't wait to see what you can accomplish in the future!